The harmful effects of human litter and waste on wildlife in the marine and estuarine environments are recognised as a 'key threatening process' to biodiversity under federal and state legislation. The ingestion of or entanglement in debris such as plastic litter can cause injury and painful death for wildlife.   
The Authority's pollution control measures prevented approximately 77 tonnes of waste from entering the Park's waterways during 2019-20 including:  
30.5 tonnes of stormwater litter and sediment captured by over 40 gross pollutant separation units
6.5 tonnes of floating litter originating upstream of the Park captured by more than 10 floating litter booms
40.2 tonnes of waste captured in 76 roadside pits and drains. 
Over 600 waste bins and 50 ash cylinders are installed across the Park's public domain and additional bins are deployed during major events. During 2019-20: 
294 tonnes of general waste was collected from the public domain, a 27% reduction from 2018-19
193 tonnes of waste was collected from sports venues, a 47% reduction from 2018-19. 
A five-year Public Space Waste Management Strategy has been developed by the Authority to set high standards and targets for waste diversion from landfills and commence the path towards a circular economy. The Authority is now developing a five-year whole-of-government waste contract to improve resource recovery rate in the public domain and sports venues.
In addition, the Authority is developing a sustainability awareness program to provide opportunities for sustainability education to the community, residents, workers and visitors of Sydney Olympic Park. This will be done through multiple platforms to improve knowledge and motivation for sustainable living and individual well-being.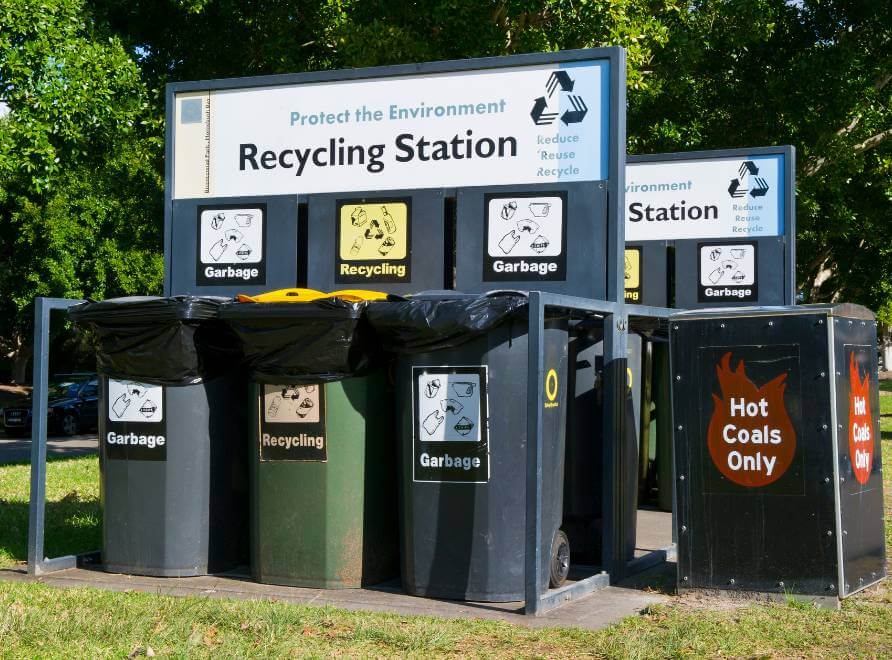 Recycling station at the Park
Combating litter entering the Park's waterways
If you are determined to prevent litter from entering the Park's waterways and causing harm to wildlife, you can join community Clean-Up groups to remove litter.
Neighbours Nurturing Nature Volunteer Project: To combat litter in hotspots around the park, the Neighbours Nurturing Nature Volunteer Project runs a variety of volunteering opportunities, including regular clean-up events, as part of our Park Care initiatives.
War on Waste community group: To combat litter at Haslam's Creek Flats, join the War on Waste - Newington and Wentworth Point community group alongside the Authority to pick up litter. 
More than 300 hours were donated by volunteers to these combined clean-up events over 2019-20. The Authority greatly appreciates the commitment shown by volunteers and will continue to facilitate these clean-up events into the future. 
Reduce the amount of waste entering the environment
As a resident of Sydney Olympic Park, you can help to reduce the amount of rubbish created each day through simple actions like choosing the reusable option.
Use a reusable water bottle instead of single-use water bottles. There are over 80 drinking fountains across Sydney Olympic Park that you can use to refill your reusable bottle on the go. See our map for drinking fountain locations
Say 'no' to single-use plastic straws, and if a straw is needed for drinking- use a reusable straw instead
Say 'no' to single-use cutlery, and use a reusable cutlery set
Use a reusable bag instead of single-use plastic bags
Use a reusable coffee cup instead of single-use coffee cups
Use a reusable face mask instead of single-use face masks and wash between uses.  
Dealing with waste responsibility
Parramatta Council collects and disposes of all residential waste from Sydney Olympic Park. If you have any queries or concerns, please contact your body corporate or Parramatta Council on 1300 617 058. As a resident of Sydney Olympic Park, you could choose to reduce the amount of rubbish created each day at home through simple actions:
Where possible, choose products with no packaging or less packaging.
Choose items with recyclable packaging and recycle them correctly
Cut rubber bands, string and elastics before putting them in your bin. This is to ensure that if these items were to escape into the environment during transport, their presence is less likely to cause harm or fatality to wildlife due to entanglement. 
Organic waste
Use a compost or worm farm at home to process your organic waste. For discounted composting equipment, see what is available via Compost Revolution. If you have organic scraps but no compost or worm farm or need more organic scraps you can sign up to Share Waste and work with people in your community to divert waste from landfill. 
Why compost or worm farm?
Household food waste was reported as one of the main generators of food waste in NSW during 2019-20, with an estimated 3.11 Mt produced annually. When this organic waste is sent to landfill, its decomposition without air generates methane, which is a potent greenhouse gas.  
Using a well-maintained compost or worm farm at home decomposes these materials with air and reduces our carbon footprint. 
It is a convenient way for you to recycle your organic food waste, particularly if your waste collection services do not provide a specific route for organic food waste. Another bonus is that the by-products produced by your compost and worm farms (compost and casting leachate) are fantastic for your balcony gardens and indoor plants. 
E-waste
Don't throw your e-waste away in the general rubbish bin, it is the fastest-growing component of our municipal solid waste stream and 98% of the components of your old computer or television can be fully recycled! Instead, you can allow these precious resources to be recycled instead of polluting our environment.  
Take advantage of your local e-waste collection services to recycle the e-waste items listed. Be part of the solution and not the problem and discover the multiple ways you can recycle your e-waste conveniently.  
Chemical or hazardous waste
Do not throw your chemical or hazardous waste in the general rubbish bin  
Do not tip chemical or hazardous waste down the sink, toilets or gutters
Do not bury chemical or hazardous waste in the ground
Chemical or hazardous waste must be disposed of in specifically designed landfills. Illegal disposal and dumping of waste is a serious offence and subject to large financial penalties.
Do the right thing and take advantage of hazardous waste collection services to have your gas bottles, fire extinguishers, paint, oils (motor and cooking), fluoro lights smoke detectors and batteries (car and household batteries) collected and disposed of safely. You can also take these items to your local Community Recycling Centre. 
Disposing batteries
Batteries are the most common form of household hazardous waste. They come in many different shapes and forms, with many containing toxic metals such as lead, mercury and cadmium. Sending batteries to landfill will not only pollute our environment but waste valuable resources such as zinc and magnesium.  
Approximately 95% of battery components can be recycled, so do the right thing and save them for your hazardous waste collection service or find out where you can conveniently dispose of batteries near you.
Other waste items
What about those other waste items that you can't recycle in your recycling bin? 
| | |
| --- | --- |
| Ink cartridges | Ink cartridges including inkjet cartridges, toner cartridges and toner bottles used in printers, photocopiers and fax machines can be recycled conveniently near you.  The mix of plastics, metal, inks and toners that make up cartridges can be recycled and reused instead of heading to landfill and polluting our environment.  |
| Bread tags | Don't send your bread tags to landfill when they can be locally recycled and raise funds to buy wheelchairs for disadvantaged people in South Africa. Learn more about the initiative and find collection points near you.   |
| Bottle caps | Be part of the Lids 4 Kids community and instead of sending bottle caps to landfill, start collecting them and drop off your bundle of lids at various collection points so that they can be recycled into prosthetic limbs for children.   |
| Unwanted items | Donate quality unwanted items such as clothes, shoes, household items and furniture to your local second-hand stores or drop off smaller donation items in collection bins - find stores and bins near you. |
| Hard-to-recycle items | Hard-to-recycle items such as toothbrushes and toothpaste tubes, stationary, coffee pods, ear plugs, kids toys and pet products (to name a few) can be dropped off at TerraCycle collection points to be recycled into new products and simultaneously divert waste from landfill.  |
| Repairing items | You can fix broken items by learning how to repair them yourself by booking and attending one of the many workshops at the Bower, local repair cafes or online repair webinars hosted by Inner West Council's Green Living Centre.   |
| Sanitary products | Find out about reusable alternatives to single-use disposable sanitary products. Learn more. |
What else can you do?
Support the second-hand economy to find a bargain and help the environment by getting familiar with the Op Shop Guide, Parramatta.  
To reduce the packaging in your general bin and eliminate common household chemical wastes you can make your own make your own safe cleaning chemicals and beauty products. You can even make your own eco-friendly baby wipes.
Say no to balloons that wreak havoc on our wildlife and make your own personalised reusable decorations for celebrations instead.
Plastic Free July
Try out Plastic Free July! Have you heard about it? Pledging to take the Plastic Free July challenge can really help guide you to living a single-use plastic-free lifestyle. Don't forget you can start any day of the year.